This past Tuesday at the Spectrum in Asheville was sadly the last meeting of the Early Spring session, but it was definitely a blast! We had two rounds of activities with two choices in each round! The two in the first round were Outta This World and Transformers! Outta this world was aliens and outer spaced themed, the first game was called "to the moon and back" the kids had to craft their own spaces rocks on which they would travel to the moon and back by hopping on them! Then they made alien masks and rocketships! Lastly they played asteroid field where they had to guide a blindfolded friend through an obstacle course of asteroids to the nearby planet. The transformers group was all about robots! First the kids build robots and crafted a weapon for them, then they had to use it to knock down a tower of cups! Then they played robot says and ended the group with a robot dance party!!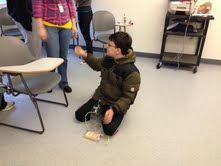 The two activities in the second round were Play dough Fun and Monster Trucks! In the play dough group the kids started out by playing play dough bowling and knocking down paper bags. Then they crafted their own race cars using toy cars and raced to see who's could go fastest! Then they played tick-tac-toe using play dough to make the x's and o's. They ended with playing hot potato with a big ball of play dough. The monster truck group began with designing their own monster trucks and cars. Then raced around the room to see who's fantasy car could make it around the obstacle course the quickest. Then they used toy cars to knock down some cup towers. They finished up with playing monster truck tag!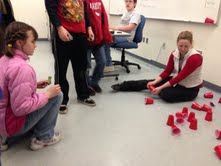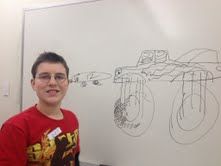 Sadly this was the last meeting of this fantastic session here at the Spectrum! But we cannot wait until the Late Spring Session which will begin March 26th and run through April 30th! Here is a link to the registration page:
http://www.ultracamp.com/info/upcomingsessions.aspx?idCamp=286&campCode=SPC
I can't wait to see everyone there!