Hello Everyone! This past Tuesday at the Spectrum in Asheville was our next to last meeting of the Early Spring Session! But is was tons of fun with five great activities! We had two rounds of activities like we did last week so there was a lot to choose from! The first round had two to choose from Dinomite, and Monsters!
In the Monsters group the kids played monster in the middle where they had someone stand in the middle and try to capture the mysterious lava rock! Next they created their own monsters using craft supplies and cups! Then they played twisted monster! Which was basically twister but with tentacles instead of feet and claws instead of hands! The Dinomite group the kids first when on a search to find hidden dinosaurs all over the room. Then they played T-Rex tower where they got in teams of two and tried to see who could build a plastic cup tower the fastest while holding their arms like a T-Rex. Then they dressed up like dinosaurs by making their own claws and tails out of paper!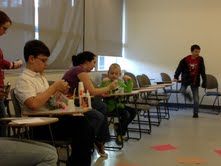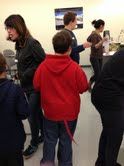 The second round of activities was just as fun as the first and the choices were Where's Waldo with Origami, Monster trucks and Wrestling, and Cat and Dog Games. The first group Where's Waldo and Origami started off by making origami creatures like cats and cranes and frogs! Then they took turns hiding the creatures collectively named Waldo and having the others find them! The monster truck and wrestling group began by coloring their own monster trucks and then racing them around the course of desks! Then they played pin the tail on a wrestler and wrestling charades! The cat and dog games group started out with a scavenger hunt for dog and cat pictures. Then they played played a game where they had a balloon on a string tied to one of their legs like a tail and they had to try and pop one another's balloons. Then they played stealing the bone, where one kid sat at a desk with a bone under it facing away from the others, they had to be as sneaky as possible and attempt to steal the bone from right under the desk.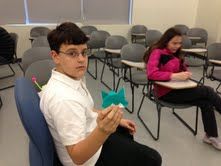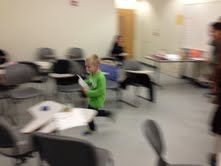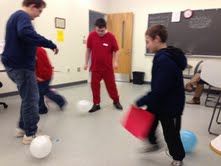 This coming Tuesday will most sadly be the last meeting of the Early Spring Session here in Asheville. But that just means that it is time to sign up for the Late Spring Session! It starts on March 26th and runs through April 30th! Here is a link to the registration page:
http://www.ultracamp.com/info/upcomingsessions.aspx?idCamp=286&campCode=SPC
I can't wait to see you all at the Spectrum!